PEELING BACK THE YEARS
December 7, 2018
In 2018 the Albert Bartlett company celebrated its 70th anniversary.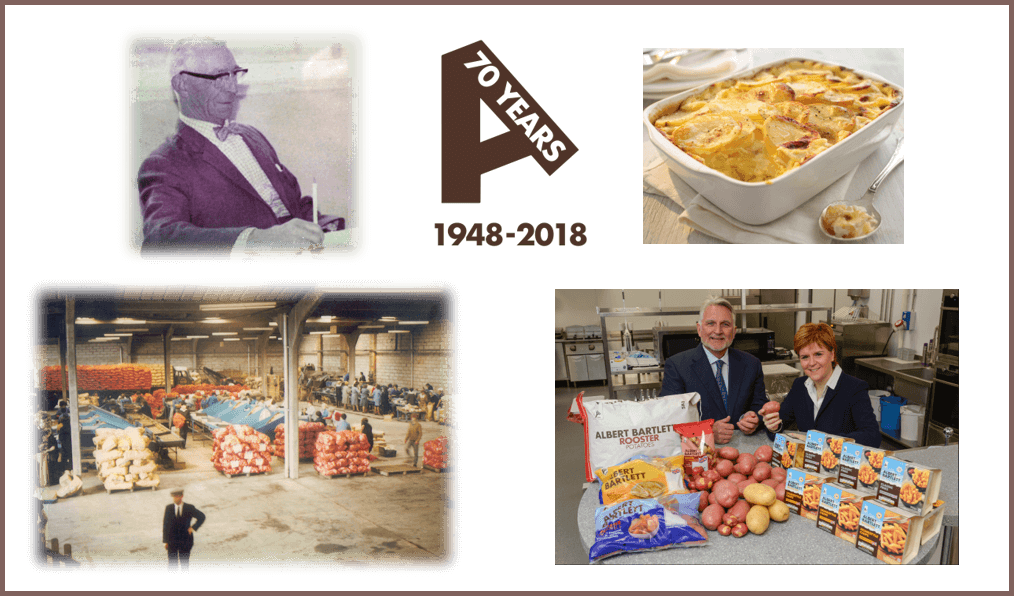 We began in 1948 when Albert Bartlett needed to earn some extra income to support his growing family in the town of Coatbridge in central Scotland. (He is the gentleman pictured top left on the image above.) Albert invested £30 in a water boiler and a large tin bath and began boiling up beetroot in his garden shed. He sold the beetroot to local markets and over the years the company has expanded. Seventy years later, we remain proudly independent and the 4th generation of the Bartlett family is now working in the company. Our headquarters are in Airdrie, only four miles or so from our founder's original business.
In our seventieth year we asked a number of food bloggers to prepare a recipe typical of each decade since Albert began boiling beetroot and a selection of them can be found on the links below.
For the 1950s Greedy Gourmet prepared a Shepherd's Pie.
Tastes were still quite conservative in the 1960s and food was a much bigger proportion of the household budget than it is today, so My Fussy Eater opted for a cheap and simple Cream of Potato Soup 
By the 1970s the Indian restaurant had grown hugely in popularity and Elizabeth's Kitchen Diary was inspired to cook up this Saag Aloo .
In the 1980s convenience food started taking off, so we have a homemade take on the famous potato waffle from Super Golden Bakes.
For the 1990s Exceedingly Vegan homed in on the rise of showy party food and has done an update with vegan mini burgers.  
In the 2000s a "hybrid" of roast potatoes and mashed potatoes became popular  – Recipes from a Pantry created Garlic Smashed Potatoes. 
Finally, to bring us up to date in the 2010s, we have loaded Hasselback Potatoes  in recognition of the trend for people to eat foods which look impressive on Instagram.
We hope you enjoy sampling a few of these recipes from the last 70 years. Here's to the next 70!
Back to News