OUR HERITAGE
We're a family-owned company and the UK's leading supplier of potatoes.
THE ALBERT BARTLETT FAMILY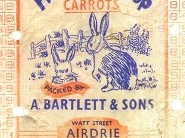 Our story began in 1948, when Albert Bartlett started our family tradition of selling good-quality produce by setting up a beetroot-boiling operation in Coatbridge, Scotland.
Nine years later, Albert's experience and expertise helped him grow the business, and along with his two sons, Jimmy and Alex, he found a new home for their flourishing company in Airdrie, Scotland. On that very same site, we made history when we became the first factory in Britain to pre-pack carrots in a plastic bag.
Over the years, our expanding business has stayed true to Albert's spirit of innovation and passion for quality, and we've built on our experience. Today, we proudly supply potatoes from our network of farmers and growers across England, Northern Ireland, Scotland and Jersey. There have been many landmark ventures along the way – including the launch of our operation in the USA, in 2012. In 2015 we introduced our frozen potato range at Westwick in Norfolk, using our famous Albert Bartlett Rooster potatoes and in 2018, we opened a chilled facility at our site in Airdrie.
Over 70 years since Albert started the business, we remain proudly independent and the fourth generation of the Bartlett family is now working in the company. Our headquarters are in Airdrie, only four miles or so from our founder's original business.
GET IN TOUCH
If you have a question about Albert Bartlett potatoes, we'd love to hear from you. There are lots of easy ways you can contact us, and you'll find all the details you need right here.